Custom Broker Bids
PROBLEM: LACK OF DIFFERENTIATION
REPs and ABC's suffer from an increasingly crowded marketplace.
The Lack of differentiation and over-emphasis on rate leads to lower margins and stunted growth.
Both REPs and ABC's need meaningful value-added products and services that will help differentiate them with C&I customers.
SOLUTION: ENERGY EFFICIENCY CUSTOM BROKER BID APPLICATION
Create multiple bids – each with and without an energy efficiency component.
ABCs can now provide two choices for each C&I customer, one that has a lower rate, but lacks any differentiation, the other has a slightly higher rate, but provides a package of LED Lighting.
LED PLUS provides the license for the technology and includes upfront and ongoing training and support as well as "Green Bonus" incentives and warranty tracking.
The LED Plus proprietary app includes the cost of LEDs, delivery, installation and recycling in the new rate per kWh.
RESULT: A THOUGHTFUL, DIFFERENTIATED PRESENTATION TO THE C&I CUSTOMER
Our REPs stand out to their third-party brokers, responding to price requests with thoughtful options that help their customers save more money over the term of the contracts,
Help the environment and improve their location's eye appeal. ABCs, in turn, stand out with their customers, showing them a concise presentation that includes an energy efficiency component that is included in the rate.
The result: Both REPs as well as ABCs differentiate their proposals and build their business with more satisfied customers.
GETTING STARTED
ENTER YOUR BIDS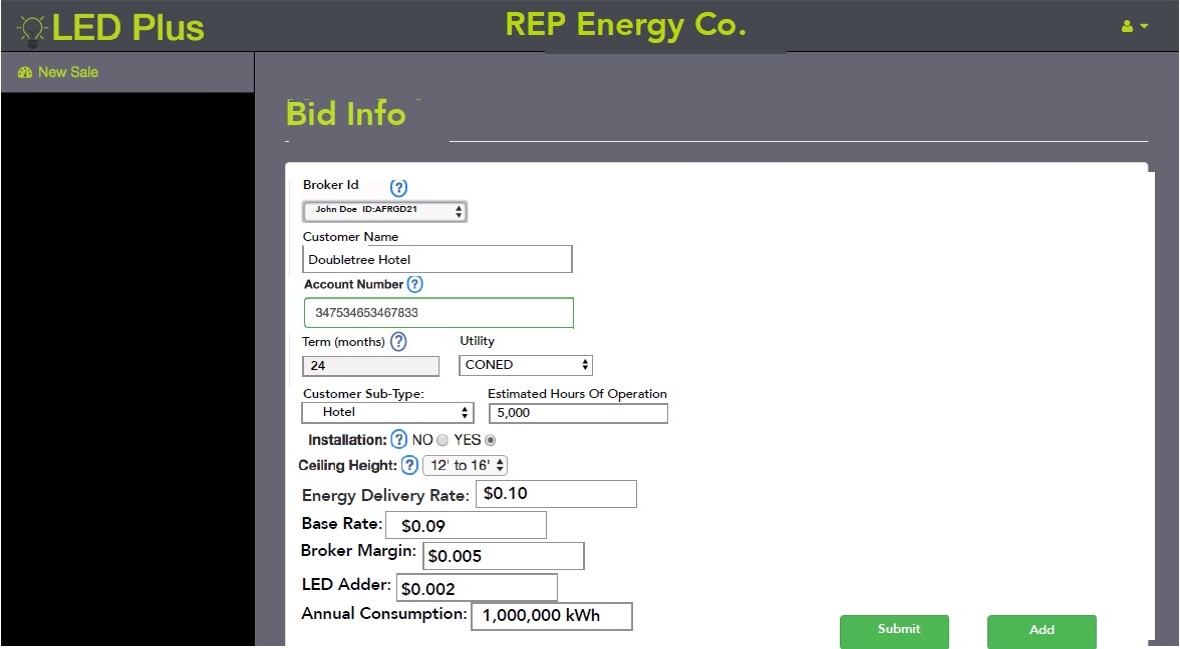 BID PREVIEW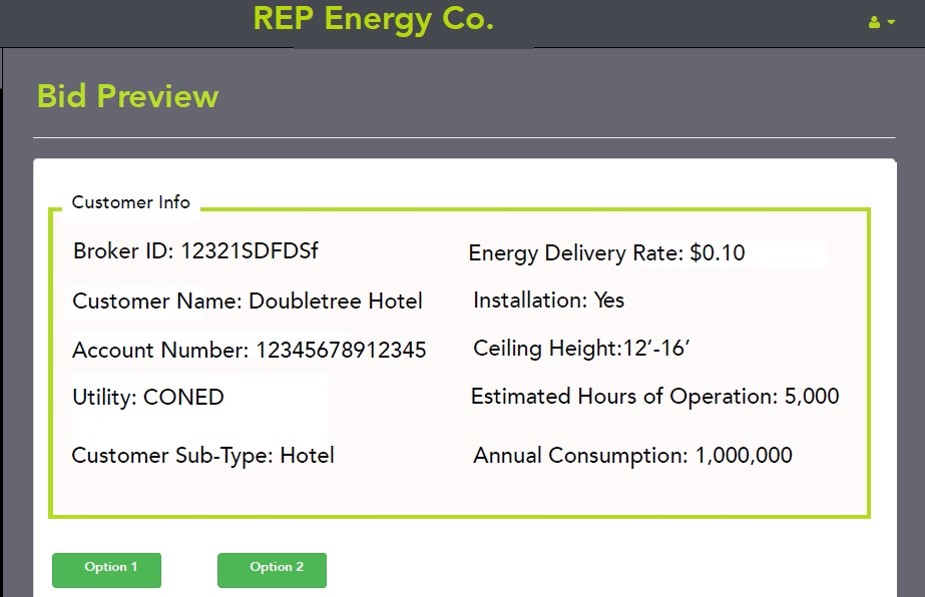 BID PREVIEW (CONT.)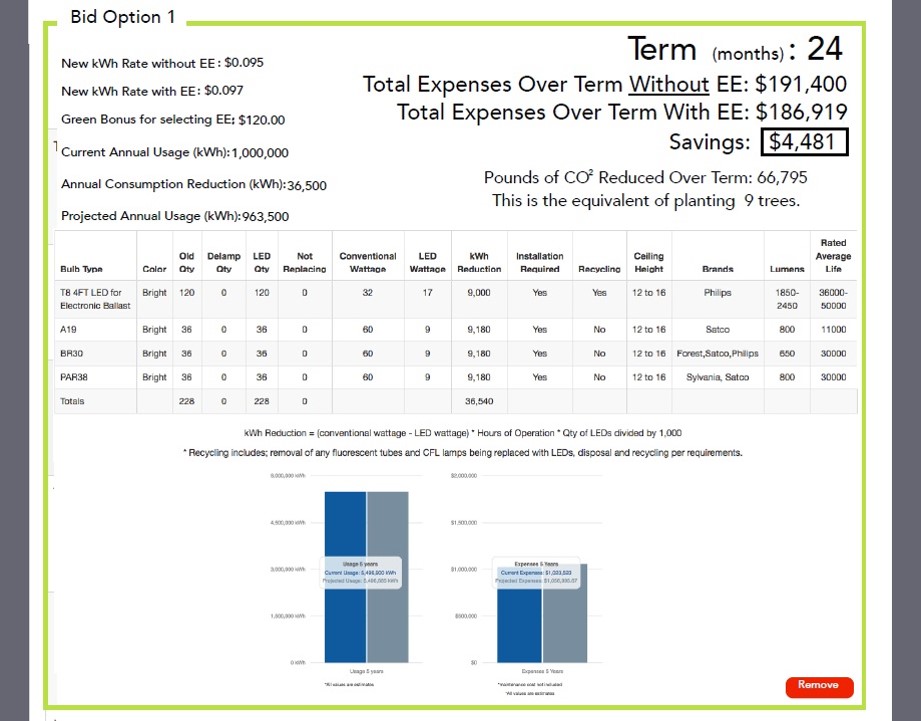 BID PREVIEW (CONT.)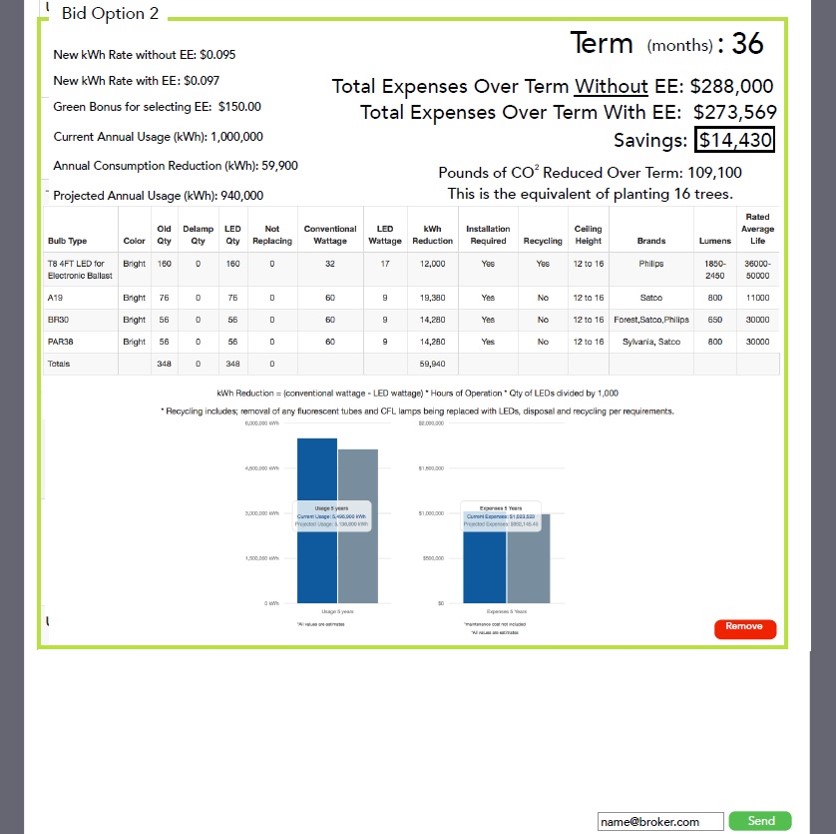 PROGRAM HIGHLIGHTS
LED Plus will train the trainers and help your ABCs become "energy efficiency consultants" that combine the use of the LED Plus proprietary technology
The LED Plus App creates any number of free Energy Efficiency Analyses that can be shared the agent or customer.
No limitation on the terms of the contract; offer, 24, 36, 48, or custom strips that may be available at any given time.
If the customer agrees, they can sign a fixed price agreement for any of the options offered; either with or without the cost of the LEDs in the new kWh rate.
LED Plus delivers and installs the LED lighting for the customer and does the recycling of the old fluorescent tubes within a few weeks of the transaction.
REPs and ABC's acquire satisfied customers who use the energy efficient LED lamps to help the environment and reduce their overall energy spend for up to five years.
In addition, we incentivize the sale further, by offering "Green Bonus Points" to the ABCs if their customers choose an option WITH Energy Efficiency built in.
ROLES
RETAIL ENERGY PROVIDER
Obtains a Turnkey Solution For ABCs
Supplies and Charges Customers for Commodity
Charges for LEDs (within the rate per kwh)
Pays ABCs
Pays Back LED Plus Over Time
Acquires New C&I Customers
Improves Efficacy of Associated ABCs
Offers Differentiated Product Offering for its Third-Party ABCs
Becomes an Environmentally Friendly Provider
LED PLUS
Provides Technology
Trains the Trainers and Users on the App
Creates Energy efficiency analysis
Procures of LED Equipment
Delivers of LED Equipment
Provides Installation and Recycling
Warranty Tracking
Custom Reporting
Financing (REPs Can Pay Back the Cost Over Time)
Implements Green Bonus Point Program
PROGRAM BENEFITS
RETAIL ENERGY PROVIDERS
Obtain a Turnkey Solution For ABCs
Acquire New C&I Customers Less Focused on Rate and More on Overall Savings
Improve Efficacy of Associated ABCs
Offers Differentiated Value-Added Product Offering for its Third-Party ABCs
Become an Environmentally Friendly Provider
Become More Meaningful to Current Third-Party ABCs – "Stand Out From the Pack"
ABCs
Value-Added Service (Energy Efficiency) Provides a Differentiated Offering For C&I Customers
Provide Multiple Options for Customers – Both With and Without Energy Efficiency LED Lighting
Customers Will be Less Focused on "Rate" and More on Overall Savings and Benefits
Provide "Green" Alternatives for Customers
Completely Automated, No Need for Site Visits
Green Bonus Points Program as Added Incentive
Click here for an executive summary of the program.