Joe's Grocery Store uses about 7,000 kWh in electricity each month.
He enjoys a low fixed rate of 9.5 cents per kWh but he wants to reduce his energy costs without paying any money upfront.
If he can reduce his annual electricity expense by about $2,000 that would be the equivalent of doing more than $60,000 in increased sales for the year.
He is approached by a representative who explains the LED program to him.
Joe's 50 traditional fluorescent lights are replaced with high efficiency LED bulbs reducing his overall electricity consumption by 16%.
Even paying a higher rate for the electricity for the next two years, the reduction in electricity consumption creates a small savings in the supply costs, and a large savings in the delivery costs.
Also, the LED lighting is warrantied for two years, so he doesn't have to change his bulbs twice a year like he was doing before – saving him money on maintenance.
Over two years the LED program save him almost $5,000 (about 12%) overall while providing the grocery store with better, safer, brighter, more durable and more beautiful lighting.
His customers and employees love the way the store is lit and he enjoys even more sales as a result.
Over five years, Joe's Grocery will save almost $15,000.
He accomplished all this with no out of pocket costs at all and the representative has the satisfaction of knowing she helped a small business customer save money and improve his business.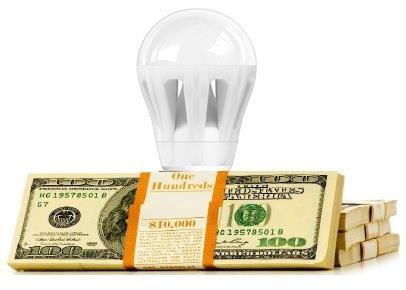 | Current Electricity Bill: | – | New Electricity Bill After Installing LED Lighting providing 16% reduction in consumption | SAVINGS |
| --- | --- | --- | --- |
| Monthly Usage (kWh) | 7,000 | 5,880 | |
| Rate for Supply | $0.095 | $0.110 | |
| Supply Charges | $665.00 | $646.80 | |
| | | | |
| Rate for Delivery | $0.136 | $0.136 | |
| Delivery Charges | $952.00 | $799.68 | |
| | | | |
| Total Charges | $1,617.00 | $1,446.48 | |
| Annual Charges | $19,404.00 | $17,357.76 | $2,046.24 |
| | | | |
| # of Times/Year Bulbs Changed | 2 | 0 | |
| # of Fluorescent and Incandescent Bulbs | 50 | 50 | |
| Average cost of traditional bulbs | $3.00 | No Cost | |
| Maintenance Expense on Current Lighting: | $300.00 | $0.00 | $300.00 |
| | | | |
| Total Cost of Electricity and Maintenance/ Year | $19,704.00 | $17,357.76 | $2,346.24 |
| TWO YEAR CONTRACT TOTALS and SAVINGS: | $39,408.00 | $34,715.52 | $4,692.48 |
| Year 3 Rate is reduced creating another $1,100 a year in total savings | | 3 Year Estimated Savings | $8,097.12 |
| Total Upfront (out of pocket) Cost: ZERO | | 5 Year Estimated Savings | $14,906.40 |
Examples of Energy Efficiency Analyses: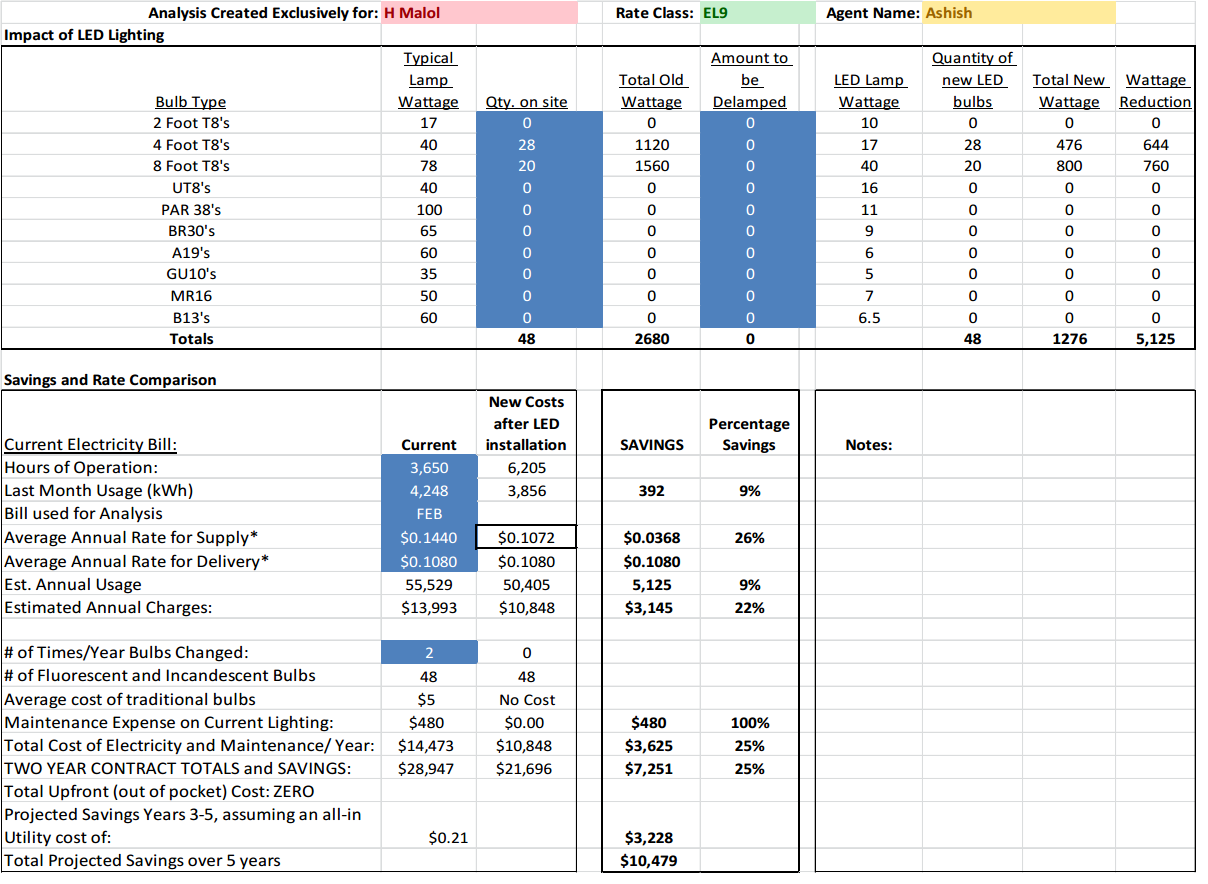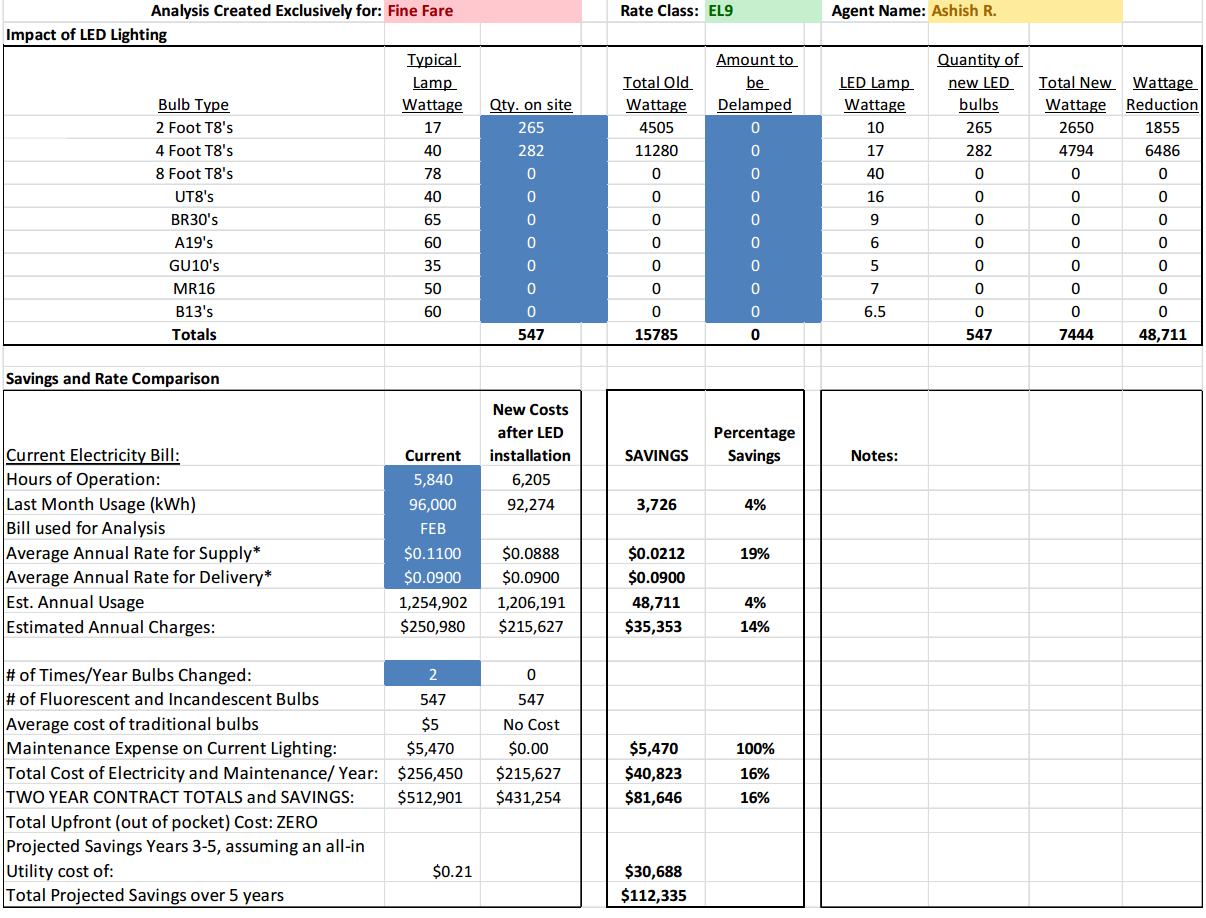 More Case-Studies: